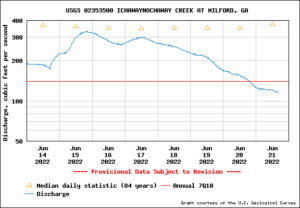 This year's GA-FIT auction was focused in the Ichawaynochaway Creek Basin, and one of the contract options is closely tied to flow levels in the creek.  Option C pays participants a standby fee at the beginning of the growing season.  If flows fall below a certain level in the creek, the contract requires irrigation suspension by those that received the standby fee.  They receive an additional incentive payment, set by their bid, if suspension is required. Many auction participants called us with questions to learn more about Option C, and its details led to many discussions about how it would work and whether it would be an effective approach.  We are pleased to report that GA-FIT has multiple contracts in place for Option C this growing season as a result of the 2022 Auction, so we are set to learn more about this standby approach.
Under Option C, irrigation suspension is triggered if the 7-day average flow level at the USGS flow gauge at Milford on Ichawaynochaway Creek falls below 50 cubic feet per second (cfs).  We picked this threshold as an indicator of very low flows resulting from drought conditions in the region. Flows at this level for extended periods could cause adverse ecological impacts.
So, we are now closely watching the flows at Milford. You can track those flows, too, on the Milford Flows page of  the GA-FIT website. That page will show you the flows in two ways:
Current flows read every 15 minutes at the gauge
7-day average flows
The current flow levels are more variable than the 7-day average flows. The current flows tell us what is happening now, but the 7-day average flows give us a more stable measure of conditions.  The incentive contract is based on the 7-day average flow.
Now, in June, it is hot and dry in the region, and flows have been hitting some low levels.  They haven't been low enough yet for the 7-day average to drop below 50 cfs, but we are watching the gauge very closely.